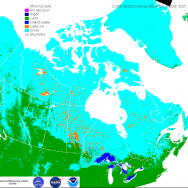 Some­times we stum­ble upon inter­est­ing things and we don't nec­es­sar­ily know how we should use what we have just found. A series of maps; snow cover in Canada was an inter­est­ing find but not really all that use­ful for any of my per­sonal projects. How­ever, I even­tu­ally came back to it when I real­ized that not all geo­vi­su­al­iza­tions occur within a GIS environment.
Nat­ural Resources Canada (NRC) released a series of snow cover map col­lec­tions on their GeoGratis por­tal. I pro­ceeded to con­nect to the por­tal via FTP and down­loaded the 2007 snow cover series. The maps are .HDF.PNG for­mat, which eas­ily import into a GIS for pro­cess­ing, how­ever this was not my goal. I wanted to cre­ate a video time­line of the snow cover extent in Canada from the 365 maps that I just downloaded.
Using ffm­peg, I was able to string the series of maps together into a video. If you're inter­ested, the code looks a lit­tle bit like this:
ffmpeg -r 10 -b 1800 -i %03d.png test1800.mp4
This code only works if your series of images start at 001.png! Make sure that there aren't any miss­ing files in your series (ie. If image 012.png is miss­ing, the video will stop encod­ing after image 011.png). To change the file­names of the maps that I down­loaded, I used Auto­mater (built into Mac OS X) to process a batch conversion.
Heres the video!